Hello All!
We are parents of three children who left the nest some years ago to fulfil themselves in other parts of the world; Matteo and Thomas live in Kyoto, Japan, and Silvia lives in London, UK.
Our large house remained an "empty nest " that we decided to fill up with new energy. We transformed this special space, made it independent, and it is now available to the guests of the "Sorgente di Luce!"
We are looking forward to welcoming you!
Gabriella e Franco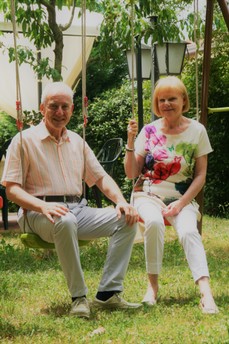 Dear guests, after almost 10 years of management, the "B & B Sorgente di Luce" has been transformed into "Gabri Tourist Location".
By expanding the spaces, in addition to the rooms, it is possible to stay in a nice apartment.
The professionalism in welcoming and cleaning the structure remains unchanged.
Currently, what is indicated in the national protocol "Safe Welcome" is being followed.
During this period, prevention measures were also adopted, such as the use of shoe covers and hand sanitizing gel at the entrance.
We are ready to receive you!